Poor Mojo's Almanac(k) Classics (2000-2011)
Poetry #207
(published December 30, 2004)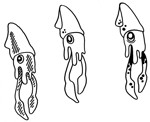 Trial
And so I finally stood in a court
where God is the Judge.
When given the opportunity to talk
I told Him and His holy Jury I spent
all my life trying to find my real self,
and in the process I might have,
in one way or another, done
the alleged offences I am accused of.
And I was acquitted:
on the ground of severe insanity.
Share on Facebook


Tweet about this Piece
Contact Us
Copyright (c) 2000, 2004, David Erik Nelson, Fritz Swanson, Morgan Johnson