Dearest Readership,
In this last week before we embark on our month-long Poor Mojo's Almanac(k) and Associated Media Services, LLC. presents "Poor Mojo's Almanac(k): Year One" I have, at my typist Jarwaun's behest, engaged once more in our fine hobby and project of crafting the "Fifty" LOLPREZIDENTZ. I do this not for myself, nor even for Jarwaun, but for the Lord, and for what He did for Me when I was in bondage in Egypt.
I jest. I do this for Jarwaun. He is a dear boy. You may look upon these works as well, because I like you tolerable well, also. You are fair and good people, each, with occasionally disconcerting problems. I still respect you in exactly the proportion as I ever did, despite knowing your mundane and embarrassing Secrets.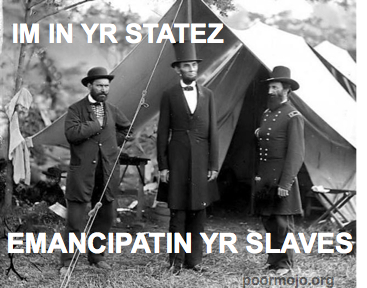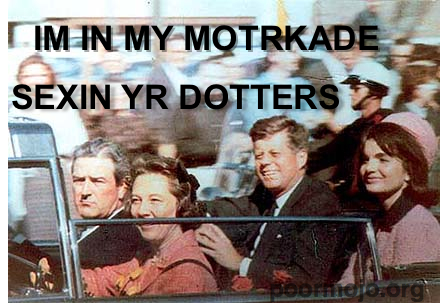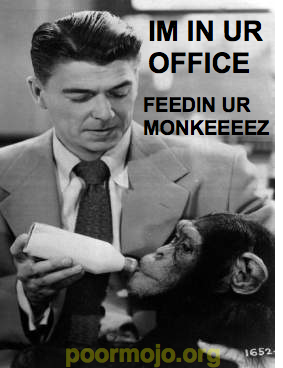 Although I in no way intend this textual-visual project as political commentary, I must confess that this particular series of LOLPREZIDENTZ does give a startlingly visceral illustration of the falling star that is your Republican's Party. Were I you, I would refrain from voting Bear with a Coat Hanger and Loaded Gun on a Preschool Floor in '08. Upon reflection, I note that Jarwaun has informed me that each of these presidents was accosted and two-thirds killed by "a crazy white man with a gun" who may, or may not, still be at large. As such, perhaps the Bear and Loaded Gun ticket is the only wise one for the embattled Party.
I Remain,
Your Giant Squid
Editor-in-Chief
PMjA