Poor Mojo's Almanac(k) Classics (2000-2011)
Squid #242
(published September 1, 2005)

Visions of the Giant Squid: Acquisitions of the Giant Squid Presidential Library; Schoolchildren's Drawings of the President (part 1)
(The following drawings were submitted to President Squid by Mrs. Siminac's fourth-grade class of human children of average intelligence since the Giant Squid's Inauguration on January 20, 2005)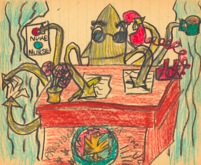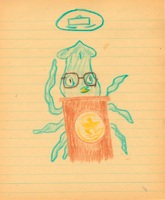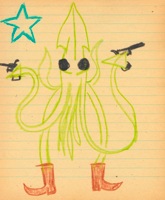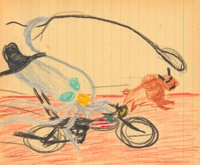 Artists' Statements:
"President Squid does lots of stuff to make the country go."
"The President talks about taxes, and why he hurt the new Pope by dropping nickles on him. President Squid is awesome!"
"The Second Amendment is the most important. Does President Squid play Halo-2?"
"President Squid got a Harley chopper, and then he rode back to Cowboy Times and caught the last buffalo and ate him!"
Share on Facebook


Tweet about this Piece
Contact Us
Copyright (c) 2000, 2004, David Erik Nelson, Fritz Swanson, Morgan Johnson