Poor Mojo's Almanac(k) Classics (2000-2011)
Poetry #107
(published November 7, 2002)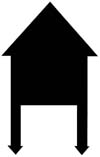 Shotgun
Not your dog or your sister
Or the sun beam
Gleaming in your eye,
I am just your passenger
On Highway Five.
It is summer.
My heart is shot.
We pass Zamora.
We are almost there,
Your hometown.
I cannot wait
To see who you are.
To pass the time
We laugh, we play
The alphabet game.
I kiss your lips
I think of pomegranates,
Find a song on the radio.
We sing until we reach the edge
Of a town you left and
Cruise into the center
Of a place that you have become.
Like a map,
You fold your hand into mine.
To make it matter
I whisper,
"Welcome home"
And I check the glove compartment
To make certain that the gun
Is still there.
Share on Facebook


Tweet about this Piece
Contact Us
Copyright (c) 2000, 2004, David Erik Nelson, Fritz Swanson, Morgan Johnson