Poor Mojo's Almanac(k) Classics (2000-2011)
Poetry #188
(published July 29, 2004)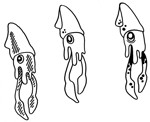 Trials and Tribulations
Trying to imagine yourself
in ten years is often a difficult
task. Depending on your
personality you'll either place
your future self in a much
better position than the one
you're in, or in a much worse one.
But then around year 3 or 4
into your ten year guess you'll
suddenly spill coffee all
over your future shirt.
Then you'll think back to
when you were planning
your future self and you'll
get all embarrassed because
you'd secretly promised yourself
that you'd never wear
a future shirt that looked so dumb.
Share on Facebook


Tweet about this Piece
Contact Us
Copyright (c) 2000, 2004, David Erik Nelson, Fritz Swanson, Morgan Johnson