Poor Mojo's Almanac(k) Classics (2000-2011)
Poetry #118
(published January 23, 2003)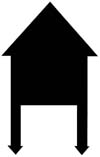 Moving Boxes
So the top is down, baby doll, sunglasses
And scarves to the nines this crazy day
In hills and cities simultaneously and we're laughing,
Laughing? the world is faded browns and there's nothing wrong,
Painted toenails and hey, let them stare, at this crazy
Couple let loose in a mad mad world where I'm Sophia Loren
Or some new starlet ingˇnue, star-lit nights and imaginable
Sunsets set to contrast our mad crazy thoughts- cut!
Spider fingers and you are the most darling thing
In this damned mad world, dancing
Down the street while I watch, laughing,
Soft melodies spill out in slurs from the bars along the street,
People in crazy clothes and, hey, what do you know, it's carnival
And we're okay in this mad mad world?
Except that we're in our new place, boxes everywhere,
One light plugged in, record player plugged in, and we dance
Real close-like, and the wine is so close to our dancing feet,
Slow shuffle and all there is is your eyes and the melted glow
Through the window of yes, this is right, me and my baby doll
All shacked up for the winter and I don't even resist
When you dip me, gentle kisses behind the ear like perfume?
And the wine puts us in Harlem where Dexter Gordon plays for us,
By request, and suddenly the crowd is gone, the chairs are up
And my hair is in the most elegant bun and our feet are shuffling
With old-time crazy style, but all the while we're barefoot and in
Love in our new home with wine stains on the carpet
On our very first cardboard boxed-in night?
Can we even really be this wonderful? Who would have thought?
I want to be a jazz song for you, baby.
Share on Facebook


Tweet about this Piece
Contact Us
Copyright (c) 2000, 2004, David Erik Nelson, Fritz Swanson, Morgan Johnson