Poor Mojo's Almanac(k) Classics (2000-2011)
Poetry #419
(published January 29, 2009)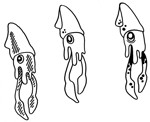 Fleas in the Thatch
They say fleas used to
be an awful bother to people
in the thatched houses.
You wouldn't need an alarm
clock to get you out of bed
in the morning as the fleas
would be at your bones.
I've seen men and women who
had fine heads of curls once and
now have hardly a rib left
from the fleas.
Of course, thatch drew the fleas and
if you slept on the thatch
you were done for.
Share on Facebook


Tweet about this Piece
Contact Us
Copyright (c) 2000, 2004, David Erik Nelson, Fritz Swanson, Morgan Johnson