The Guardian UK provides some excellent cultural and historical context.
Oakland police: controversial history sets tone for city's discord | World news | guardian.co.uk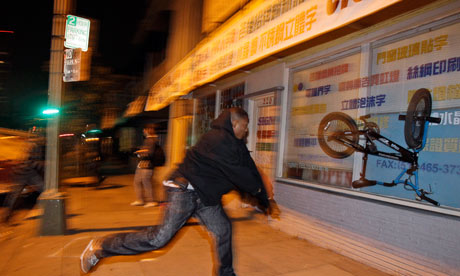 The Oakland police department (OPD) has long been one of the most controversial urban law enforcement agencies in America, with a string of high-profile criminal and brutality allegations going back decades. It is also tough turf to police. Oakland is a city that has suffered from considerable urban blight, gang problems and drug issues. It is a historic centre of black American culture and radical black politics, having given birth to the Black Panther movement in the 1960s. There have been persistent reports of police criminality and abuse, especially aimed at the city's black population, where community activists say low-level police harassment is a fact of life. Latest census figures show black people make up the biggest single ethnic group in Oakland at 27.3%, with white people at 25.9% and Hispanics at 25.4%. Despite having almost the same size populations in the city, however, white people account for only 16% of OPD vehicle stops, and 6.7% of motorists searched. Black people in Oakland, by contrast, account for a whopping 48% of vehicle stops, and 65.8% of motorists searched. But it is the major incidents that really stand out when examining how OPD polices its community, and in particular the poorer black neighbourhoods of Oakland. In 1968 OPD officers shot and killed Bobby Hutton. The 17-year-old Black Panther party member was involved in a shootout with police, but surrendered and stripped down to his underwear to show he was unarmed. However, he died after being shot by police at least 12 times. That incident helped set a tone of discord between OPD and large segments of the city's black community that has lasted until the present day. . . .