Very weird case here. A 17-year-old boy is found dead, stuffed inside a gym mat and the cops are either monumentally awful at their jobs or are actively working to botch the investigation. At every step of their inquest, the police do exactly the wrong thing. It looks suspicious so the family shelled out for a second independent autopsy that shows the kid was murdered. And maybe this town has a history of lynching, of white cops murdering black suspects in custody. Maybe they just don't investigate crimes that happen to black people.
The mysterious death of a 17-year-old football player from Valdosta, Georgia - Grantland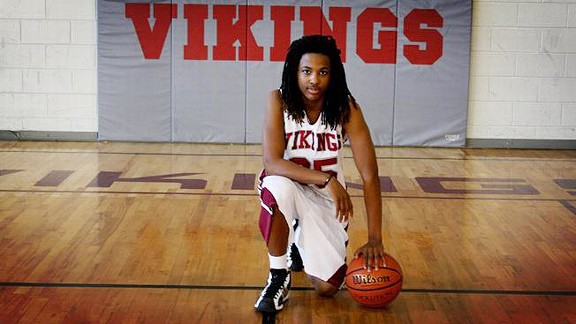 This is what we know: Kendrick Lamar Johnson was 17 and muscled and often quiet. He was 5-foot-10 and 160 pounds — an undersize power forward, a seamless hurdler, and a safety who hit like a linebacker. His favorite hamburger came from a truck stop down I-75, just on the other side of Wildwood. He rarely started fights, but when provoked he ended them. His favorite college football team depended on when he was asked: Some days it was Florida, other days Ohio State, and every now and then he'd say he favored UNLV. He hoped to someday learn to grill as well as his father, to win state, and to go to college. He would do none of those things. We know that on the morning of Thursday, January 10, he arrived at Lowndes High School wearing three layers of shirts — a white tank top, an orange T-shirt, and a white T-shirt — as well as a belt, jeans, black gym shorts, and boxers. Somewhere on him, he had a Starburst wrapper. We know this from the initial autopsy report, though that document's assertions have now been called into question. We know he attended classes that day. We know he talked with friends. And we know that at 1:09 p.m., he walked into the school gymnasium. Exactly what happened next — that's unclear. . . . Lowndes High head athletic trainer Philip Pieplow handed out surveys to the students in his Life Sports class that morning. After completing the survey, a girl climbed on top of a set of blue cheerleading mats, which were rolled up and standing vertically in a corner of the gym. Inside one of the mats, she saw two feet. Panicked, she called friends to come and see. They looked at the white socks with gray toes, "Hanes" written across them in red lettering. Someone screamed. . . . The original EMT report had declared the gym a crime scene. Says Watson of that day, "I definitely would not have ruled it an accident." But that evening, the sheriff's department issued a statement: A body had been found at Lowndes High School. Foul play was not suspected. . . . The Johnsons have their own theory: They believe Kendrick was murdered. It's a grave accusation, one they may never be able to prove. J.D. Yeager, a former lieutenant in the sheriff's department, says, "I spent most of my career working for one of the most powerful sheriffs in this state,2 and even he wouldn't have had the power to cover something like this up." But even if you don't believe the worst, it's hard to disagree with the Johnsons that some aspects of the sheriff's account make little sense. The Johnsons are demanding a convincing explanation of how their son died, and so far, they believe, Valdosta's authorities have failed to provide one. . . . The results, which were released Tuesday, contradict the GBI medical examiner's findings. While the initial autopsy had declared the cause of death to be "positional asphyxia," this one found the cause to be "blunt force trauma" to the right side of the neck and jaw, the same area in which the EMT had noted bruising. The GBI's autopsy called Kendrick's death an accident. Anderson described the injuries as "unexplained, apparent non-accidental blunt force trauma." . . .