Mecca super-hotel to offer spa, butler and a chocolate room | World news | The Guardian
Just because you're a pilgrim doesn't mean you have to live like one, am I right? This article is maddeningly vague on just what exactly a "chocolate room" is.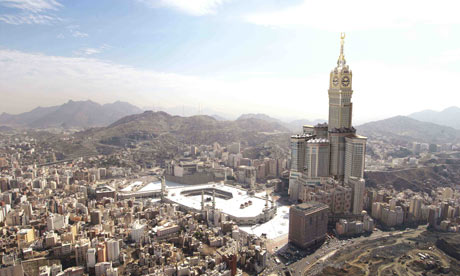 The pilgrimage to Mecca has always involved hardship and sacrifice, whether months spent travelling on foot through barren valleys and sleeping in the open with no shelter from the elements or stripping oneself of earthly trappings. But help is at hand for the pilgrim who cannot bear to be without comfort while executing the fifth pillar of Islam. Raffles, which gave thirsty wanderers the Singapore Sling, is opening a luxury hotel in Mecca offering pilgrims a coffee sommelier, a chocolate room where chefs will prepare bespoke pralines and truffles, and a 24-hour butler service. Undeterred by restrictions on beautifying oneself during the Hajj, the hotel will also have segregated gyms, beauty parlours, grooming salons and a spa. There are strict rules regarding personal hygiene and behaviour during the hajj, and forbidden activities include sex, the cutting of hair and nails and the trimming of beards. These bars are lifted once certain rituals are complete, but Muslims are generally expected to forget worldly thoughts and activities and focus on the divine.