One of my hopes that is sure to not come true is that if Romney gets the nod for the GOP nomination I hope we can have an examining of Mormonism and how BALLS CRAZY it is. And rude. So, so rude. A friend of mine, her granddad is a Mormon and has a job being a proxy stand in for other people getting baptized. That is they tell him he is a person, say Malcolm X, and then baptize him into the Mormon religion. And BOOM, by Mormon magic and the distributive property of hoo-hah Malcolm X is now officially a Mormon. Seriously. This is a job. But he isn't paid, because the Mormon church likes to have serfs. On one level I don't care. It's basically a bunch of religious nutters playing their own special form of Dungeons and Dragons but without Mind Flayers and with proxy baptism. On another level it strikes me as absolutely psychotic that people think it's okay to do this. That somehow this gives power or prestige to their church. So here's what I'm doing: every day at 9:45am I am proxy baptizing everyone who ever lived and who ever will live into Atheism. I have a special prayer. I have magic underpants. It's totally legit. So they can keep baptizing all the dead people and all the poor people and all the suckers into their church but it won't matter. Because I just unbaptized them. And it's just as legitimate as their proxy voodoo double reverse spiritual warfare. Game on.
Mormons apologise for baptising Simon Wiesenthal's Jewish parents | World news | guardian.co.uk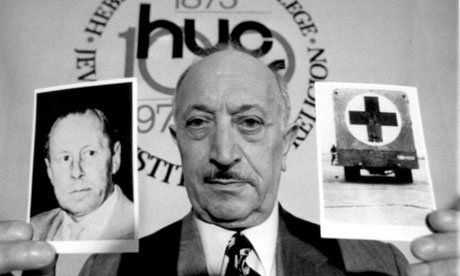 The Mormon Church has apologised after its members performed posthumous baptisms into Mormonism of the long-dead Jewish parents of famed Nazi hunter and Holocaust survivor Simon Wiesenthal. The baptisms "by proxy" were performed last month in Mormon temples in Utah, Arizona and Idaho, according to the Los Angeles-based Simon Wiesenthal Centre, a Jewish human rights organisation named after the man who hunted down more than 1,000 Nazi war criminals in the years following the second world war. Rabbi Abraham Cooper of the Simon Wiesenthal Centre told Reuters the baptisms were "unacceptable", adding that people who lost everyone and everything and were murdered for being Jewish during the Holocaust should not have their souls hijacked by another religion. The apology came on the same day that Holocaust survivor and Nobel laureate Elie Wiesel called on the Republican US presidential candidate Mitt Romney, a Mormon, to address the issue after Wiesel's own Holocaust victim parents were similarly baptised.