Shame he didn't do anything to regulate Wall Street though. Below is a very small excerpt from a long and powerful speech.
Full text of Barack Obama's speech in Osawatomie, Kansas | World news | guardian.co.uk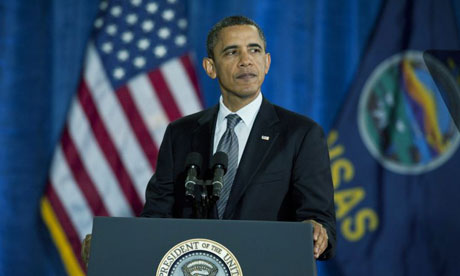 Today, over 100 years later, our economy has gone through another transformation. Over the last few decades, huge advances in technology have allowed businesses to do more with less, and it's made it easier for them to set up shop and hire workers anywhere they want in the world. And many of you know firsthand the painful disruptions this has caused for a lot of Americans. Factories where people thought they would retire suddenly picked up and went overseas, where workers were cheaper. Steel mills that needed 100 – or 1,000 employees are now able to do the same work with 100 employees, so layoffs too often became permanent, not just a temporary part of the business cycle. And these changes didn't just affect blue-collar workers. If you were a bank teller or a phone operator or a travel agent, you saw many in your profession replaced by ATMs and the internet. Today, even higher-skilled jobs, like accountants and middle management can be outsourced to countries like China or India. And if you're somebody whose job can be done cheaper by a computer or someone in another country, you don't have a lot of leverage with your employer when it comes to asking for better wages or better benefits, especially since fewer Americans today are part of a union. Now, just as there was in Teddy Roosevelt's time, there is a certain crowd in Washington who, for the last few decades, have said, let's respond to this economic challenge with the same old tune. "The market will take care of everything," they tell us. If we just cut more regulations and cut more taxes – especially for the wealthy – our economy will grow stronger. Sure, they say, there will be winners and losers. But if the winners do really well, then jobs and prosperity will eventually trickle down to everybody else. And, they argue, even if prosperity doesn't trickle down, well, that's the price of liberty. Now, it's a simple theory. And we have to admit, it's one that speaks to our rugged individualism and our healthy skepticism of too much government. That's in America's DNA. And that theory fits well on a bumper sticker. But here's the problem: It doesn't work. It has never worked. It didn't work when it was tried in the decade before the Great Depression. It's not what led to the incredible postwar booms of the 50s and 60s. And it didn't work when we tried it during the last decade. I mean, understand, it's not as if we haven't tried this theory.