Ayn Rand is going to get a lot of press now that Romney chose Paul Ryan (R-WI) as his veep pick. Ryan is an unabashed Objectivist. He touts Ayn Rand constantly, or at least did until a few months ago when the vetting process started. According to the recent New Yorker profile of Ryan he knows that most people find Rand creepy as fuck, so he has stopped mentioning her in every conversation. Still, if Ryan is the GOP's ideas man, it's worth looking at where his ideas come from.
Paul Ryan's Guru Ayn Rand Worshipped A Serial Killer Who Kidnapped and Dismembered Little Girls - By Mark Ames - The eXiled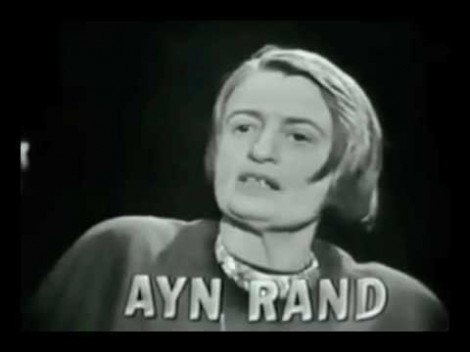 One reason why most countries don't find the time to embrace her thinking is that Ayn Rand is a textbook sociopath. Literally a sociopath: Ayn Rand, in her notebooks, worshiped a notorious serial murderer-dismemberer, and used this killer as an early model for the type of "ideal man" that Rand promoted in her more famous books — ideas which were later picked up on and put into play by major right-wing figures of the past half decade, including the key architects of America's most recent economic catastrophe — former Fed Chair Alan Greenspan and SEC Commissioner Chris Cox — along with other notable right-wing Republicans such as Supreme Court Justice Clarence Thomas, Rush Limbaugh, Rep. Paul Ryan, and South Carolina Gov. Mark Sanford. . . . So what, and who, was Ayn Rand for and against? The best way to get to the bottom of it is to take a look at how she developed the superhero of her novel, Atlas Shrugged, John Galt. Back in the late 1920s, as Ayn Rand was working out her philosophy, she became enthralled by a real-life American serial killer, William Edward Hickman, whose gruesome, sadistic dismemberment of 12-year-old girl named Marion Parker in 1927 shocked the nation. Rand filled her early notebooks with worshipful praise of Hickman. According to biographer Jennifer Burns, author of Goddess of the Market, Rand was so smitten by Hickman that she modeled her first literary creation — Danny Renahan, the protagonist of her unfinished first novel, The Little Street — on him. What did Rand admire so much about Hickman? His sociopathic qualities: "Other people do not exist for him, and he does not see why they should," she wrote, gushing that Hickman had "no regard whatsoever for all that society holds sacred, and with a consciousness all his own. He has the true, innate psychology of a Superman. He can never realize and feel 'other people.'" This echoes almost word for word Rand's later description of her character Howard Roark, the hero of her novel The Fountainhead: "He was born without the ability to consider others." (The Fountainhead is Supreme Court Justice Clarence Thomas's favorite book — he even makes his clerks learn it, much as Vice President-to-be Paul Ryan tried making his interns read Rand.) . . . Then he took a pocket knife and cut a hole in her throat. Then he cut off each arm to the elbow. Then he cut her legs off at the knees. He put the limbs in a cabinet. He cut up the body in his room at the Bellevue Arms Apartments. Then he removed the clothing and cut the body through at the waist. He put it on a shelf in the dressing room. He placed a towel in the body to drain the blood. He wrapped up the exposed ends of the arms and waist with paper. He combed back her hair, powdered her face and then with a needle fixed her eyelids. He did this because he realized that he would lose the reward if he did not have the body to produce to her father.