Noah Berlatsky takes a look at Ursula LeGuin's stunning LEFT HAND OF DARKNESS.
World Without Imperialism -- The Hooded Utilitarian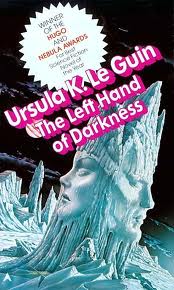 Ursula K. Le Guin's novel The Left Hand of Darkness is best known for its imaginative take on gender — the inhabitants of the planet Gethen (Winter) are human-descended hermaphrodites, who become male or female (depending on their partners) only during a brief mating cycle (called kemmer) every month. imagesFor Le Guin, though, the ambisexuality of the Gethenians is about much more than just sex. As she says (through the mouth of a Terran-normal human observing the Gethenians,) the structure of the kemmer cycle rules the Gethenians; all their stories and culture is focused on it. This, she says, is relatively easy for outsiders to understand. But What is very hard for us to understand is that four-fifths of the time, these people are not sexually motivated at all…. Consider: Anyone can turn his hand to anything. This sounds very simple, but its psychological effects are incalculable…. Consider: A child has no psycho-sexual relationship to his mother and father. There is no myth of Oedipus on Winter….. Consider: There is no unconsenting sex, no rape. Gethenians, Le Guin goes on to make clear in the rest of the book, are not ruled by the dualism or binaries which structure our thought. Perhaps in part for that reason, they have no war. I say "perhaps" here advisedly — Le Guin is careful not to absolutely link the absence of masculinity to the absence of violence. There are other possible reasons for the lack of warfare; Gethen is an extremely cold planet, and its inhabitants are in a constant struggle for survival — their battle against the cold is so all-consuming and fierce that they have had little time to develop large scale states or armies. They do, however, have assassinations, and murders, and torture, and even occasional small battles. During the time of the novel, two Gethenian nations have even gotten large enough and powerful enough that it looks like a border dispute might turn into war. Still, with all these caveats, the fact remains — the Gethenians don't have men, they don't have sexual violence, and perhaps not as a direct result, but not incidentally either, they don't have glory of arms, and they don't have war. . . .