Christ he would have hated this.
David Foster Wallace's student thesis to be published posthumously | Books | guardian.co.uk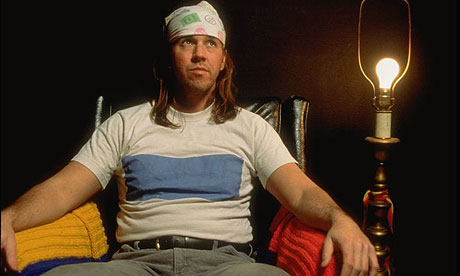 Most university graduates would shy away from the thought of their undergraduate dissertation being shown to anyone other than an examiner, but a US publisher is promising that the late David Foster Wallace's thesis, due for publication later this year, will "restore logic and language to their rightful places". Author of the acclaimed novels Infinite Jest and The Broom of the System, and praised by Don DeLillo for sentences which "shoot rays of energy in seven directions", Wallace committed suicide in 2008. His unfinished final novel, The Pale King, is lined up for publication next year; now, academic publisher Columbia University Press has announced that it will bring out his undergraduate thesis, a critique of Richard Taylor's argument for fatalism, in December. The publisher said the writing would allow readers to experience "the developing perspective of this major novelist, along with the beginning of his lifelong struggle to establish solid logical ground for his soaring convictions". It is publishing Wallace's essay as Fate, Time, and Language: An Essay on Free Will, alongside Taylor's original article and other works on fatalism that Wallace refers to in his critique.