Where does he find the time?
Obama to publish children's book | Books | guardian.co.uk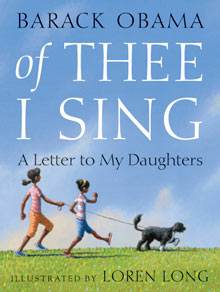 The US president's picture book, Of Thee I Sing: A Letter to My Daughters, is billed as a tribute to 13 "groundbreaking Americans and the ideals that have shaped [the] nation". It will be on bookshelves from 16 November, according to an announcement today from its publisher. From the "patriotism" of America's first president George Washington to the "artistry" of Georgia O'Keeffe and the "courage" of baseball player Jackie Robinson, the 40-page book is "an inspiring marriage of words and images, history and story", said Chip Gibson, president and publisher of Random House Children's Books, whose imprint Alfred A Knopf Books for Young Readers will release the title later this autumn.