And then Kushner writes an open letter defending himself and pretty much just eats their faces and drops the mic. Not to be, y'know,
hyperbolic
or anything.
The malaise behind CUNY's affront to Tony Kushner | Sarah Wildman | Comment is free | guardian.co.uk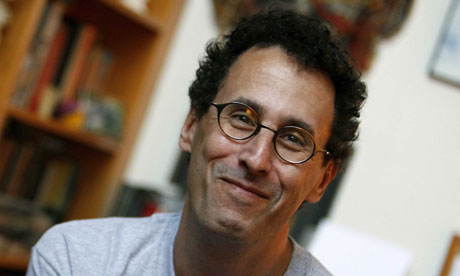 Tony Kushner may be many things. An American playwright. An instigator. A prodder. A gay man. A Jew. What he is not is an antisemite. What he is not is an Israel-basher. Does he question Israeli policy? He does. And in the new Jew v Jew world of American Jewish discourse, those questions are tantamount to dismissing the state in its entirety. As a result, a reputation has been slandered and all nuance in this conversation has, yet again, has been set aside. . . . And then, as only he can, Kushner took apart their criticism. (He was not, he has repeatedly pointed out, invited to defend his case before the board). "My questions and reservations regarding the founding of the state of Israel are connected to my conviction, drawn from my reading of American history, that democratic government must be free of ethnic or religious affiliation, and that the solution to the problems of oppressed minorities are to be found in pluralist democracy. I am very proud of being Jewish, and discussing this issue publicly has been hard; but I believe in the absolute good of public debate, and I feel that silence on the part of Jews who have questions is injurious to the life of the Jewish people. My opinion about the wisdom of the creation of a Jewish state has never been expressed in any form without a strong statement of support for Israel's right to exist, and my ardent wish that it continue to do so, something Mr Weisenfeld conveniently left out of his remarks." He went on to say that his position regarding the forced removal of Palestinians in 1948 was formed by reading renowned Israeli historian Benny Morris, and that: "My outrage, my grief, my terror, my moments of despair – regarding the ongoing horror in the Middle East, the brunt of which has been born by the Palestinian people, but which has also cost Israelis dearly and which endangers their existence, are shared by many Jews, in Israel, in the US and around the world. My despair is kept in check by my ongoing belief in and commitment to a negotiated conclusion to the Palestinian-Israeli crisis." . . .
And hey, a bonus quote from Wiesenfeld,
the guy who personally denied Kushner the degree
:
But Mr. Wiesenfeld interrupted and said the question was offensive because "the comparison sets up a moral equivalence." Equivalence between what and what? "Between the Palestinians and Israelis," he said. "People who worship death for their children are not human."