Overthinking It takes a look at the economy in the Hunger Games trilogy and at Pareto efficiencies (aka win-win deals).
The Odds are Never in Your Favor: Pareto Efficiency in The Hunger Games | Overthinking It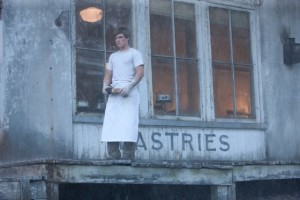 The Hunger Games takes place in the dystopian nation of Panem, an oligarchy built on the ruins of what was once North America. Panem is divided into twelve Districts ringing a great Capitol, located somewhere in the Rocky Mountains. Citizens of the Capitol live in modern luxury, while most of the Districts scrape by in subsistence level farming or industry. Each District specializes in the production of one commercial good or resource. District 12, located in the Appalachian Mountains and home of the narrator Katniss Everdeen, produces coal. Everyone who lives in District 12 either works in the coal mines or works in a support industry (clothing, food service, etc) that services the miners. Let's say you're born into District 12. You will probably do what your parents did for a living. If your parents don't have a job (Katniss's father, a coal miner, dies prior to the start of the series), you'll have to fend for yourself. But don't expect to go into business on your own and become an entrepreneurial success. The best you can hope for is to make something that people within your District want to buy. But what if you're really good at something else? Let's say you have a gift for baked goods, as Peeta Mellark does in The Hunger Games. What options do you have? Could you go into business for yourself and become a world-famous pastry chef? No. Fine pastries are the province of District 1, makers of luxury goods. And travel between Districts is forbidden. . . .