I grew up in an overwhelmingly Catholic part of the greater Detroit sprawl. There are churches everywhere. Bizarre blue laws concerning who can buy alcohol at what time and where. And my local library did everything it could to keep anything remotely prurient off the shelves. Vast amounts of scifi and fantasy and mainstream lit were absent. But still. I remember when I discovered Piers Anthony's Xanth books. I devoured them at a rate of roughly one every other day, only slowed by the inter-library loan program. When I couldn't get a book midway through the series--it'd been vandalized--I scraped together enough cash to buy it. Which was back then for me a real luxury. When the Xanth books ran dry I worked my way through the rest of Anthony's oeuvre. And that's when, in the course of an otherwise ho-hum anthology, I came upon the story Berlatsky references below, "The Barn." It was exciting and profoundly weird. Honestly I found it less hot and more, well, like I'd opened an average sci-fi book and found a story about men raping brain-damaged cow-women. It wasn't sexy at all; it was unsettling. It was my first and best example of the "squick." But it did make me realize that my local librarians--as thorough as they were--missed things. I redoubled my efforts in the stacks to find the subversive and the transgressive.
Black Leather Corset of Dune -- The Hooded Utilitarian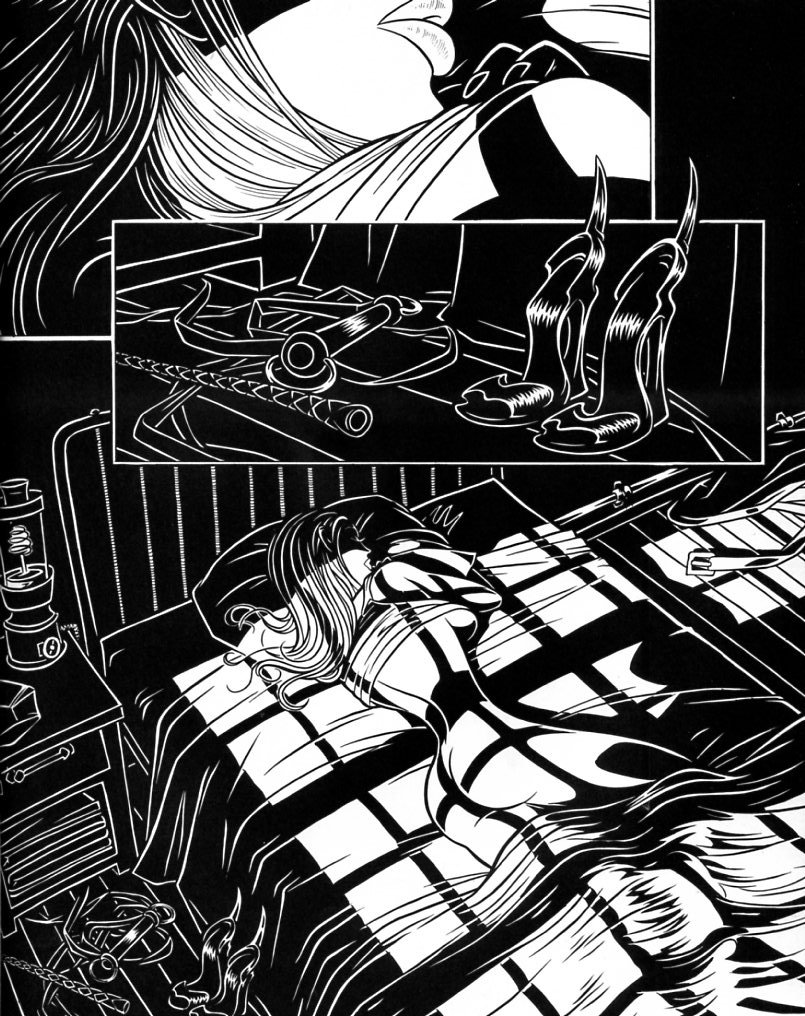 Porn is the genre fiction that dare not speak its name. When you think of genre, you tend to think of sci-fi, detective, horror, western, romance, or the like. Porn doesn't make the list — instead, its set off in a box by itself, for special censure or (less often) praise. Yet, when you look closely, porn doesn't really seem all that anomalous. Like other genre art, it's broadly popular, has its own predictable tropes, and appeals primarily (though not exclusively) to one gender. Porn isn't an absolute evil ruining our children, nor is it a liberating force releasing the power of our repressed sexuality. It's just another marketing niche. This isn't meant as a sneer. On the contrary, once you stop thinking about porn as moral outrage or anthropological curiosity and start thinking of it as just another pulp genre, it's a lot easier to see its virtues and, for that matter, to put its vices in context. Like other great genre narratives — Agatha Christie's novels, say, or John Carpenter's movies — good porn fulfills the most obvious expectations in surprising ways while veering vertiginously between extreme technical competence and grungy amateurism. Most of all, porn, like pulp, is studiously uninterested in good taste, which means that the best examples have an energy and an imagination hard to duplicate in more sedate forms. . . . Like all pulp, porn tends to cross-pollinate with other genres. The sci-fi/sex fertilization has been particularly intense. *Heavy Metal* is an obvious touchstone, but a big part of the avant-garde sf movement from the seventies on has involved explicit erotica. Writers like Samuel R. Delaney and John Varley lovingly fetishize gender transformation and interspecies intercourse — and include a fair bit of explicit sex. One paradigmatic example, Piers Anthony's semi-masterpiece "The Barn," features an alternate universe where some human beings are deliberately brain-damaged and then placed in barns where they are bred and milked like cattle. Our dimension-hopping protagonist gets to offer his services as stud as the story boldly explores the realm where "controversial and brave" slides right into "surreptitious stroke material." . . .