Germany's hunt for the murderer known as 'the woman without a face' | Life and style | The Observer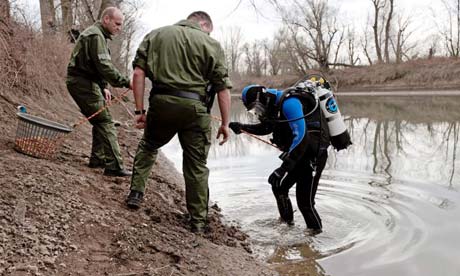 And now, Bad Kreuznach finds itself at the centre of one of the most bizarre, high-profile murder mysteries in the country's history - the search for an apparent serial killer whom police and prosecutors call, simply, 'The Woman Without a Face'. They have no fingerprints to go on. No witnesses. No description. What they do have is a trail of DNA, now stretching back 15 years and across three countries - as well as a grisly new reason to put a face to her double helix. A case that had for years been gnawingly disturbing, yet still fairly obscure, has leapt on to the front pages of German newspapers. For it appears now that the mystery woman may not only be a killer, but a cop-killer.
In April 2007, Michele Kiesewetter, a 22-year-old policewoman from an elite drugs squad, was taking a lunch break with a colleague in their BMW patrol car in Heilbronn, nearly 100 miles from Bad Kreuznach. Two people climbed into the back seat and shot the officers from behind, killing the woman and seriously injuring her 25-year-old partner. The assailants struck so quickly their victims had not even drawn their weapons.
As dozens of green-uniformed officers, carrying a smiling portrait of their murdered colleague, paraded at her funeral, the case shocked and moved the country. It also sparked one of the largest criminal investigations in German history - with results that at first puzzled, then stunned, the investigators.