Myriad Issues: My Mom Reviews Chris Ware's Best American Comics 2007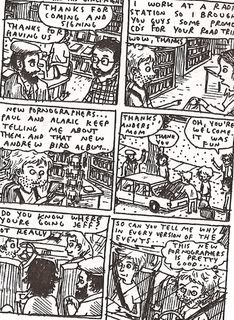 Mom: "I can't read this. This is awful. First of all, the panels are so busy. They're jammed with lines and clutter, and it makes you want to get out of the panels as fast as you can. He has all these hash marks and no negative space. This guy just--he has this compulsion to fill everything. The only thing that has any space is the balloons.
And it's just... very anal. The character is very superficial. He believes that anything he thinks or wants at the time should happen. He goes to Minnesota or whatever to visit this girl... And then he wants to make out, and she doesn't want to, but he doesn't care. He's so superficial that he doesn't even realize that the other person doesn't enjoy him at all.
It's too busy. And disconnected and rambling. It shouldn't be published."
These are pretty fun reviews, and very astute. I especially like her thoughts on Bechdel's Fun Home.