Mightygodking.com -- On Luthor.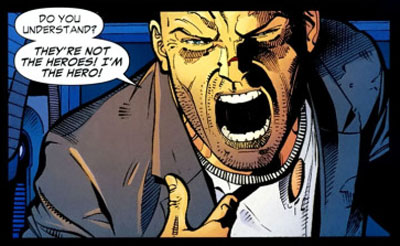 Chris Bird nails it again.
Why is Luthor so complicated when compared to other supervillains? I'm not kidding when I say you can sum up Dr. Doom's innermost character motivation in one sentence (more importantly, in one sentence and accurately). Lex is a book where most supervillains are a sentence. Why is that?
The answer's pretty obvious and wears a big red cape. Lex is going to be more complex because his enemy, the battle he fights, is more mythic by far than any other. If you look at the ranks of great comic villains - and I'm talking the true greats here - they're generally either on some level either the equal of the hero(es) they loathe (the Joker, the Green Goblin, Dr. Doom, Sinestro) or their superior (Galactus, Dormammu, Magneto on the high end of the power scale, the Anti-Monitor).
But Luthor is unique - definitively the only great villain who is, by any reasonable standard, weaker than his archenemy. Remember, Superman isn't just powerful - he's also smart, and wise, and personable, and generally possessed of a huge number of admirable quality traits, and he has a ton of friends who are also for the most part more powerful than Luthor is (and who all hate Luthor too), and he has alien technology nobody else does, and a secret fortress, and a super-cousin, and a super-dog. Luthor doesn't have any of that. Luthor has brains, determination and cojones, and that's it. Sometimes he has a corporation, sometimes a secret science fortress, but that's all ephemeral stuff.
Other villains fight men. Luthor is, when you get down to brass tacks, a man trying to fight God.