The Hooded Utilitarian: Lose the Girdle, Get Empowered (OOCWVG)
I am unabashedly a fan of Berlatsky's criticism--this essay shows exactly why. Noah has been spending some time these past few months analyzing the character of Wonder Woman--her creation, her subsequent uses, her legacy. He makes the connections to Adam Warren's
Empowered
look so effortless that I curse myself for not seeing them earlier.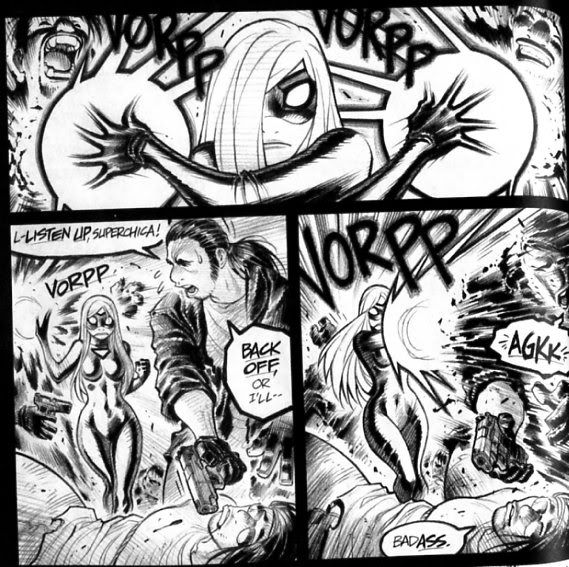 . . . Even more important than the humor, though, is the fact that Warren seems to really care about his heroine. Empowered could easily have turned into a series of dumb blonde joke...but instead, Emp comes across as an incredibly likable character, way more competent and courageous than she or her teammates are willing to credit. As I said, Warren starts out by highlighting her unhappiness and humilitation, a la Charlie Brown — but he quickly heads for less depressing territory, giving her a yummy ex-evil minion as a boyfriend, and incidentally creating one of the best couples in super-hero comics. Thugalicious (does he have a name? He must, but I can't find it. Oh well.) is incredibly sweet, setting up his villainous cohorts for defeat after defeat at Emp's hands because "this stuff makes you happy, dinnit?" — and, less selflessly, because Emp "always gets completely sexed up and out of control after every super-hero outing." In return, when thugalicious' cohorts wise up and almost kill him, Emp, kicks the door over and with uncharacteristic competence blasts through a roomful of minions to get to her man (said man remarking, with heartfelt enthusiasm "Bad Ass!") The end of this scene is pretty great as well. Generally when super-heroes save their loved ones, they're pretty blase about it — along the lines of, "Aha, here I am again to rescue you just in time. You never doubted me, of course!" Emp, on the other hand, falls apart, weepingly cussing him out for being a macho asshole and getting himself in this pickle. It seems — and I think, is — such a natural reaction that it took me days to realize how unusual it was for the genre. . . .
Note: if you haven't read Warren's
Empowered
you're missing out on solid characterization, deft plotting, and enough cheesecake art to decorate the nosecones of every plane ever flown.