Confession time: it took me years to come around on Achewood. I'd read strips now and again when people linked to them and
did not get it
. What was the big deal? There were cat-things that talked weird and acted oddly sexual at times and I did not see the appeal. But then Dave-o, of our fair Empire, sent me a handful of his favorite strips and something clicked in my head. It was like a key turned or I was finally shown the glossary or something because after reading the handful of curated strips he showed me I loved Achewood. I still do. Achewood is a singular story. It's both utterly ridiculous and irreverent while at the same time telling painfully honest stories about how hard it is to be a man, to be an adult. The art is whatever, the plotting can be slipshod at times, but where Onstad destroys is in terms of the voice. Every character in Achewood has a unique, well-developed voice. They have their own syntaxes, their own grammars. Once you can tune in to the character work Onstad is doing, it all makes sense. This is not a comic about gags (except when it is). This is not a comic about madcap plots (except when it is). This is a comic about
characters
. Richly drawn characters that live and breathe and hurt and bleed. And yes, they are drunk cats and neurotic cats and a teddy bear and whatever the fuck Phillippe is. And they are beautiful. Achewood is basically our generation's
Northern Exposure
or
Twin Peaks
: a land full of charming misfits that you long to just cold hang out with.
Achewood, 2001-2011 | Overthinking It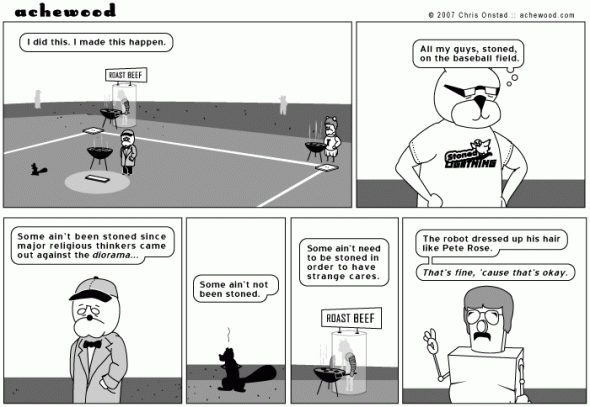 Telling an interesting story is hard enough to do that one would think it's enough. Telling an interesting story that's also full of belly laughs is noteworthy. Telling an interesting story full of belly laughs in an irregular webcomic is an Olympian feat. But telling an interesting story, laughs, webcomic, etc, with talking cats and stuffed animals in the Southern California suburbs as protagonists is absurd. It's incomprehensible that someone could succeed so well with such material. . . . ACHEWOOD AS SHE IS SPOKE With a story that spans ten years, a cast of dozens of characters and hundreds of strips, where does a newcomer start with Achewood? Opinions vary. Completists may want to start from the very beginning, but be warned that the first six months of strips have only a modest relation to what came later. "The Party" is the first story arc in the drop-down menu available on the front page, but that skips some details that newcomers might find interesting – Teodor's relationship with the mythical Penny, the introduction of Ray, etc. I can't stand people who praise a series but insist I have to invest 40 hours into it to "really get it," but there's a lot of ground to cover with Achewood. But at the same time, Achewood might not be your thing. I remember being one of the few people in my circle of friends – maybe the only one – who liked Bill Griffith's Zippy the Pinhead. Zippy's non sequitur juxtapositions of consumer culture and obscure literary references tickled my absurdist funny bone. Achewood speaks in a similar voice, blending street culture, middle American suburbia, historical trivia and talking cats in a wild, challenging ride. My recommendation has always been to start at May 2004 in the archives and read the entire month. It's 20 strips, so you can bang through it in less than half an hour. That month, for whatever cosmic reason, is a good blend of approachable gags, bleak humor and context-free absurdity. It's a good microcosm of the comic as a whole. If after 20 entries you don't find yourself curious for more, you can abandon the series without guilt. . . .