This is part What if The Wire had been written in Victorian England? and part Pierre Menard, Author of the Quixote.
"When It's Not Your Turn": The Quintessentially Victorian Vision of Ogden's "The Wire" -- The Hooded Utilitarian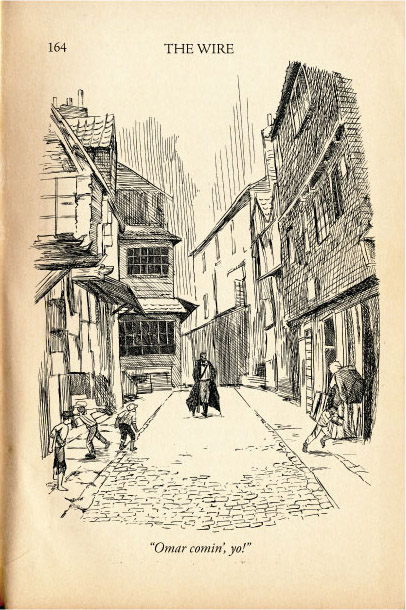 The Wire began syndication in 1846, and was published in 60 installments over the course of six years. Each installment was 30 pages, featuring covers and illustrations by Baxter "Bubz" Black, and selling for one shilling each. After the final installment, The Wire became available in a five volume set, departing from the traditional three. Bucklesby Ogden himself has most often been compared to Charles Dickens. Both began as journalists, and then branched out with works such as Pickwick Papers and The Corner. While Dickens found popularity and eventual fame in his successive work, Ogden took a darker path. Dickens' success for the most part lies in his mastery of the serial format. Other serialized authors were mainly writing episodic sketches linked together only loosely by plot, characters, and a uniformity of style. With Oliver Twist, only his second volume of work, Dickens began to define an altogether new type of novel, one that was more complex, more psychologically and metaphorically contiguous. Despite this, Dickens retained a heightened awareness of his method of publication. Each installment contained a series of elements engineered to give the reader the satisfaction of a complete arc, giving the reader the sense of an episode, complete with a beginning, middle, and end. One might liken The Wire, however, to the novels of the former century that were single, complete works, and only later were adapted to serial format in order to make them affordable to the public. Yet, while cognizant of his predecessors, Ogden was not working in the paradigm of the eighteenth century. As a Victorian novelist, serialization was the format of choice for his publishers, but rather than providing the short burst of decisively circumscribed fiction so desired by his readership, his tangled narrative unspooled at a stately, at times seemingly glacial, pace. This method of story-telling redefined the novel in an altogether different way than both Victorian novelists and those who had come before. . . .