The Star Wars films have always had massive ethical problems looming just below the surface. Should Leia have given up the rebellion to save the billions of innocents on Alderaan? Is it right to blow up a Death Star knowing that hundreds of thousands of people on board probably aren't evil? Is the Jedi council more interested in preserving its own power than seeking justice? The Clone Wars, which makes Anakin into a hero
right before he goes on to murder hundreds of toddlers
in Episode 3, makes the ethical problems of the movies pale in comparison.
The Bioethics of The Clone Wars | Overthinking It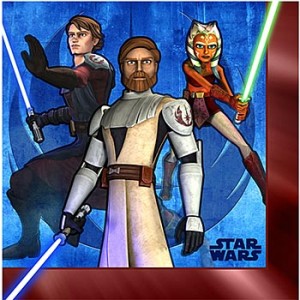 I've written about the strangeness of Cartoon Network's The Clone Wars before. This is a kids adventure show about a massive interstellar war in which one person is secretly controlling both sides for personal gain, and it's going to end with the good guys all getting slaughtered by their own troops. Take a look at this napkin I saved from my kid's birthday party. The guy on the left kills a bunch of children. The one in the middle cuts off three of his best friend's limbs and leaves him to burn to death. The one on the right almost certainly doesn't make it to her sixteenth birthday party. This is the paradox of The Clone Wars: it's an upbeat story embedded smack in the middle of a tragedy. You're supposed to root for the Jedi to crush those roger-rogers, and forget about how completely meaningless the whole thing is in the context of Episode III. But let's focus on the clones themselves. They fight for the Jedi, which makes them the good guys. My son often pretends to be Commander Cody, a leader clone. However, the idea of genetically engineering a clone army is ridiculously unethical. Think about it: the Republic happily orders up millions of clones to be used as slave labor, the exact same way the Separatists are churning out battle droids. The clones' growth is artificially accelerated, so they can be cannon fodder after only ten years of non-stop combat training. As one of the Kamino "cloners" explains in Episode II: You'll find they are totally obedient, taking any order without question. We modified their genetic structure to make them less independent than the original host. This is horrifying stuff. But the Jedi, as far as I can tell, have no qualms whatsoever about leading this army. In fact, they make an implied choice to use clones over drones. The Kaminoian puts it this way: Clones can think creatively. You'll find that they are immensely superior to droids. So let's get this straight. . . .