The best description of The Big Bang Theory I've heard is, "nerd blackface."
Shouting Into The Void | The Problem With The Big Bang Theory...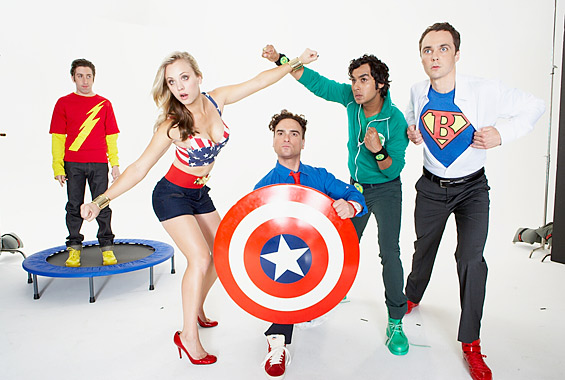 But this specifically is not my main problem, lazy humour is one thing but cruel humour is quite another. If you watch, really watch an episode of The Big Bang Theory and pay attention to when the audience laughs it soon becomes clear that what they're laughing at. What Chuck Lorre wants us to find funny is not the jokes which the characters are making, it's the characters themselves. At one point Howard mentions playing Dungeons and Dragons. There is no joke attached to this, it's not the punchline to any set up, however it is treated as one. Howard says the words "Dungeons and Dragons" and the audience laughs. They're not laughing at a joke, they're laughing at the fact that Howard plays D&D. And this kind of thing happens all the time throughout the show. How many times has a joke been made out of Leonard owning action figures or Sheldon collecting comics? When, in season one, Penny invites the guys to her Halloween party and they are excited about making costumes, we're supposed to laugh at them, to think they are silly for dressing as a Hobbit or Thor when everyone else is trying to look sexy. The reason I feel uncomfortable watching The Big Bang Theory is because it's laughing at me, at people like me. The humour in The Big Bang theory relies on the audience siding with and relating to Penny, the character coded as "normal" in comparison to the main four guys. It also relies on the audience having a sense of superiority over Leonard, Raj, Sheldon and Howard. We're supposed to feel like we're cooler than them and that we're better than them. This then prompts us to laugh at the things which make them nerdy, which stop them being cool, which make them lesser. This is done, in my opinion, to stop them from seeming intimidating. It's essentially Chuck Lorre saying "Don't worry, these guys may have fancy degrees, they may be more successful and more intelligent than you but they like sci-fi and read comics. They're socially awkward and can't speak to girls. You're much cooler than they are so you're still better than them." This isn't to say that we're not meant to sympathise with Leonard, Sheldon, Raj and Howard. Chuck Lorre doesn't want us to hate them. He does, however want us to pity them. We don't root for Leonard and Penny to get together because we think they're a good match. We feel sorry for Leonard, we think Penny's out of his league and we root for the underdog. This disdain for the main characters taints the show for me. It seems mean, bullying and like I said before, just lazy. I feel like Chuck Lorre is collectively breaking our glasses and stealing our lunch money. You see, this kind of humour only works if in fact you do relate to Penny. If you relate to Leonard, or god forbid Sheldon, you don't feel entertained, you just feel belittled. The way that even the three guys laugh at Sheldon seems especially cruel. Yes, he's painted as annoying, as an inconvenience and as just plain rude, however he is also read by many as autistic. So much so that my friend who works at a school for autistic children believed he had Asperger's Syndrome and once asked me how they got away with ridiculing a character with special needs. I explained to her that no, Sheldon is not canonically autistic and she was shocked. She told me that he was a totally accurate portrayal of someone on the autistic spectrum and had many characteristics of someone with Asperger's – specifically the inability to recognise sarcasm or understand human emotion as well as the obsession with "his spot" and his distress when routine is changed. Sheldon is consistently positioned as someone to be laughed at. It's made to seem ok by the fact that his friends are laughing at him too and, of course, he isn't technically autistic he's just almost indistinguishable from someone who is.