I've been dying to see what David Brothers would say about DJANGO and this post does not disappoint. It's also just the first of seven.
4thletter! -- Django Unchained: "Coded language, man-made laws."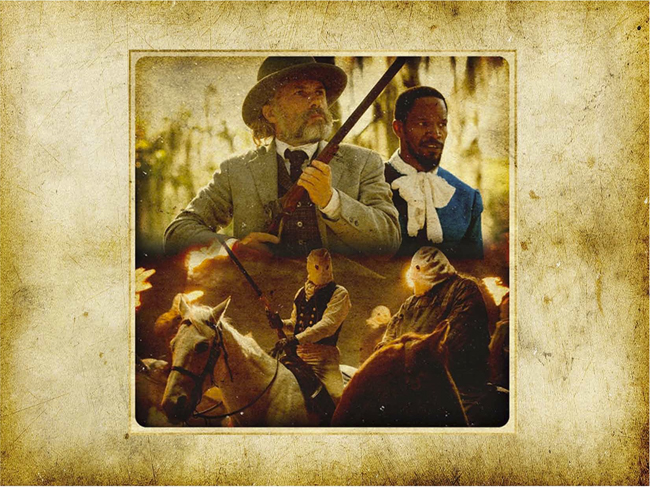 Here's something to keep in mind while watching Django Unchained. An apocryphal origin for the word "motherfucker" is that it referred to slaves or slave-owners that did you know what with you know who. It was a term of extreme derision, the story goes, aimed at shaming slaves or expressing hatred for the overseer. Knowing Tarantino and his sometimes staggering grasp of communication, he's more than aware of the history of "motherfucker." That definition stuck in my head while watching Django Unchained the second time, and made me pay closer attention to what Tarantino was doing with language in his script. People say "nigger" about fifty-eleven times in Django Unchained. It's set in 1858 stretching into 1859, so you kinda have to expect it. What I like about the movie is how Tarantino doesn't just stop there. He plays with language, with slurs, in a way that isn't just a surface level treatment. I don't know how I missed it, but the usage of "Jimmy" in Django Unchained made something super obvious click for me. Crow as a slur for blacks, "Jimmy Crack Corn," and those crows in Dumbo — they all come from the same place. Racial slurs go way deeper than nigger and darkie. Sometimes they take subtler forms, but when they click, things you've heard in the past tend to snap into alignment, and you see how this language has infested our culture. Jimmy's just one of the slurs in Django Unchained. Crow, black, nigger, pony, and so on… it's fascinating. It's easy to forget that racism isn't as simple as somebody hating someone else over the color of their skin. It's bigger than that. It's a system. Language is just the first line of attack. You can see the system at work in every single frame of Django Unchained that features a black person and a white person. Django, and the other slaves, are completely subordinate to the white people. Schultz and Django's relationship is not just an aberration, but illegal. Django, while playacting a freed black slaver, is technically of higher social status than Walton Goggins's Billy Crash, a simple redneck enforcer. That means he gets to smart off at Crash, to treat him like trash. But Billy Crash's leer says everything you need to know about their power dynamic. Django can use all the words he wants, but free or not, he's still just a nigger. If Billy Crash really wanted him, he could have him, and it'd only take a modicum of smoothing over. . . .