This is just lovely. It's an examination of the state of Europe and Florence at the dawn of the sixteenth century. The context for Machiavelli's little book. And a brief look at the craft man himself, the father of political science.
Machiavelli – S.P.Q.F. -- Ex Urbe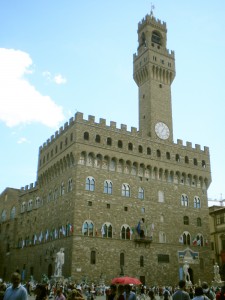 This, now, was Machiavelli's job when he worked in that little office in the Palazzo Vecchio: Goal: Prevent Florence from being conquered by any of 10 different incredibly enormous foreign powers. Resources: 100 bags of gold, 4 sheep, 1 wood, lots of books and a bust of Caesar. Go! "Desperation" does not begin to cover it. There are armies rampaging through Italy expelling dukes and redrawing borders. Machiavelli is an educated man. He has read all the ancients, all the histories, all the moral maxims and manuals of government. He negotiates. He makes alliances. He plays the charisma card. We're Florence: we have all the art, all the artists, all the books; you don't want to destroy us, you want to be our ally. When that fails, there is the bribery card. We can't defeat you, France, but we can give you 100 bags of gold to use to fund your wars against other people if you attack them instead. Machiavelli negotiates alliances with France. He negotiates alliances with Cesare Borgia. He negotiates anything he has to. He tries to create an army of citizen soldiers who will not, as mercenaries do, abandon the field when things are against them because they have no incentive to die for someone else as citizens do for their families and fatherland (the Senate and the People of Florence!) . . . Now, after the grand and fast-paced life of high politics, after being ambassador to France, after walking with princes, Machiavelli finds himself at a farm doing nothing. He describes in a letter his weary days, taking long walks through fields and catching larks, retiring to a pub to listen to the petty babble of his rustic neighbors. At the end of a wasted day, he says, he returns each evening to his little cottage, there strips away the dirt and ragged day clothes of his new existence, and puts on the finery of court. Thus attired, ready to negotiate with kings and popes, he enters his library, there to spend the evenings in commerce with the ancients. And he starts writing his "little book on princes." Now, everyone who's anyone is banished from Florence at some point. Dante, Petrarch, Cosimo de Medici, Benvenuto Cellini like five times… When one is banished, one is often banished to some spot in the countryside outside Florence, which is what happened in this case. The terms, generally, are that if you're good and stay there then they'll think about someday calling you back, but if you run off to some other city they make your banishment a bit more permanent. Machiavelli is expected to run off. He's a talented and experienced political agent, a great scholar, author and playwright. He could get a job in Rome for the pope or a Cardinal, in Naples, in Paris, in a dozen Italian citystates, in the Empire. He doesn't. He doesn't even try. Machiavelli only works for Florence. . . .