Jouralists arrive in Sochi for the Olympics, find squlid broken mess where hotel rooms should be
Every two years some country scrambles to build enough capacity to host the Olympics. Until now they have all pulled it off just in time. Sochi, however, is not ready. Not only are they still murdering stray dogs in the streets so that they don't attack people, or charge onto the field during the opening ceremony but the hotel rooms set aside for press and support personnel are half-built or even nonexistent.
Reporters Arriving For Sochi Olympics Are Less Than Pleased With Nonexistent Hotel Rooms – Consumerist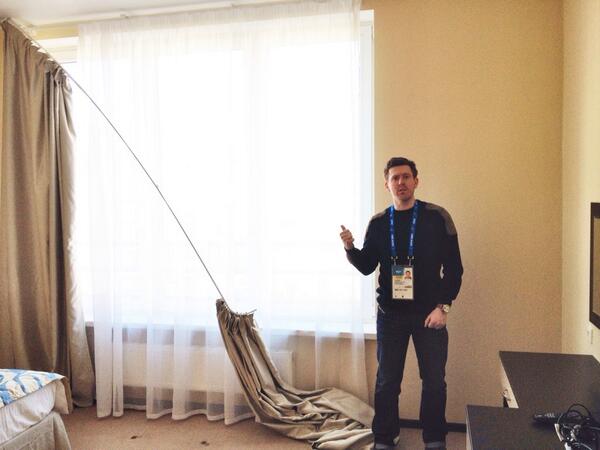 Stacy St. Clair of the Chicago Tribune isn't drinking the Sochi Kool-Aid just yet… and certainly not with the yellow water coming from her hotel bathroom tap.
My hotel has no water. If restored, the front desk says, "do not use on your face because it contains something very dangerous." #Sochi2014—
Stacy St. Clair (@StacyStClair) February 04, 2014
Water restored, sorta. On the bright side, I now know what very dangerous face water looks like. #Sochi #unfiltered http://t.co/sQWM0vYtyz—
Stacy St. Clair (@StacyStClair) February 04, 2014
Also on the bright side: I just washed my face with Evian, like I'm a Kardashian or something.—
Stacy St. Clair (@StacyStClair) February 04, 2014
CNN sports producer Harry Reekie and his team arrived to find that months of preparation can go down the drain when the hotel rooms you booked don't exist.
Over 48 hours after leaving London and still no hotel rooms ready for our team in Sochi. Accommodation situation here shambolic. #cnnsochi—
Harry Reekie (@HarryCNN) February 04, 2014
CNN booked 11 rooms in one @Sochi2014 media hotel five months ago. We have been here for a day and only one room is available. #cnnsochi—
Harry Reekie (@HarryCNN) February 04, 2014
This is the one hotel room @Sochi2014 have given us so far. Shambles. #cnnsochi http://t.co/RTjEkmyan3—
Harry Reekie (@HarryCNN) February 04, 2014
@richard_conway The hotels may be open but the rooms are not ready in our one. Still. From what I hear the problem is widespread.—
Harry Reekie (@HarryCNN) February 04, 2014