2M year-old Homo Erectus skulls suggest we've been misclassifying our ancestors
Skull of Homo erectus throws story of human evolution into disarray | Science | theguardian.com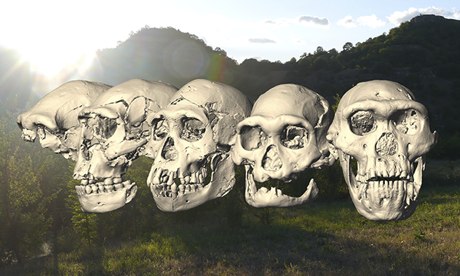 The latest skull discovered in Dmanisi belonged to an adult male and was the largest of the haul. It had a long face and big, chunky teeth. But at just under 550 cubic centimetres, it also had the smallest braincase of all the individuals found at the site. The dimensions were so strange that one scientist at the site joked that they should leave it in the ground.
The odd dimensions of the fossil prompted the team to look at normal skull variation, both in modern humans and chimps, to see how they compared. They found that while the Dmanisi skulls looked different to one another, the variations were no greater than those seen among modern people and among chimps.
The scientists went on to compare the Dmanisi remains with those of supposedly different species of human ancestor that lived in Africa at the time. They concluded that the variation among them was no greater than that seen at Dmanisi. Rather than being separate species, the human ancestors found in Africa from the same period may simply be normal variants of H erectus.
"Everything that lived at the time of the Dmanisi was probably just Homo erectus," said Prof Zollikofer. "We are not saying that palaeoanthropologists did things wrong in Africa, but they didn't have the reference we have. Part of the community will like it, but for another part it will be shocking news."