What happens when local heads of the KKK and the NAACP meet?
In a possible first and under heavy security, KKK and NAACP meet in Casper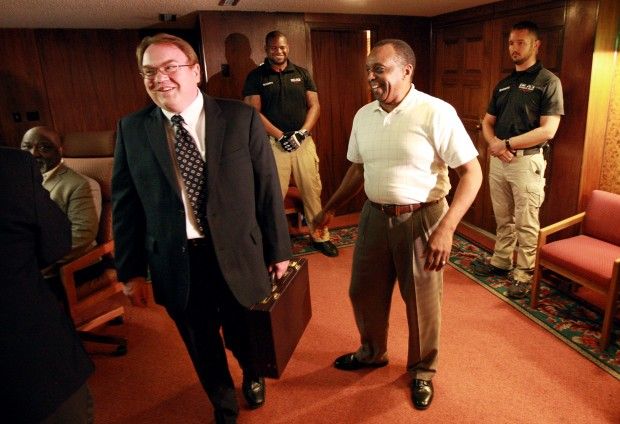 Jimmy Simmons, the president of the National Association for the Advancement of Colored People's branch in Casper, didn't expect to get a return letter from the KKK.
For months he had been hearing reports that black men in Gillette were getting beat up. Inevitably the men were with white women when assaulted. Then Klan literature showed up around town. Simmons considered rallying against the Klan, but then decided to try something different: talking.
"If you want to talk about hate, get a hater," Simmons said later. "Let him tell you something about hate."
He looked up some contact information and in June, asked for a meeting with the KKK.
Simmons wouldn't get specific, but it seems the NAACP headquarters wasn't pleased he planned to talk to the Klan. He eventually got the go-ahead, provided the meeting took place in Casper, Simmons' turf. A moderator from Colorado planned to come, but then she broke off contact.
The Casper NAACP would meet with the Klan alone, in the person of John Abarr.
Now here was Abarr, not dressed in his Klan regalia – the white hood and robe, the history of hateful violence – but in a dark suit, white shirt and a nondescript tie, his hand extended toward Simmons.
"Hello, John."
"Hello Jimmy."
. . .
Abarr makes a point of proving he's a member of anti-racism groups. Membership: American Civil Liberties Union, the hate-group watchdog Southern Poverty Law Center, and oh, yes — also the United Klans of America, an organization with a website image gallery that includes a target with an Obama campaign symbol bull's-eye.
Then there's the desire to secede from the United States of America. The northwest U.S. — Wyoming, Montana, Idaho, Washington, Oregon — should secede and form a territory. Blacks can stay there, he supposes, but no more should be allowed in, to keep the region white. States such as Georgia, which are primarily black, should secede from the union and become a black state.
A question from the NAACP: How do you plan to secede from the union?
"Legally, hopefully," Abarr says.
. . .