In it for the Money: Running Gun Numbers
This is Dave's column in the Ann Arbor Chronicle. In this installment he crunches the numbers on gun accidents, gun deaths, suicides and car accidents and comes away with some sobering conclusions.
The Ann Arbor Chronicle | In it for the Money: Running Gun Numbers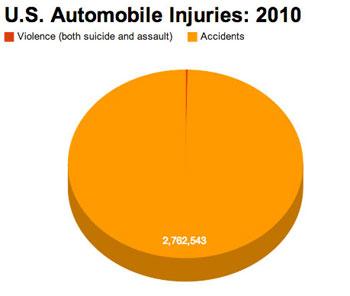 This month, we're just going to talk numbers, because if you get your vision of the world from the daily news, then your impression is probably something like: (a) Guns kill maybe three dozen people per day, mostly in murders (many of which are committed by cops in the line of duty); (b) Lots of little kids find guns, play with them, and get killed; (c) Gun injuries aren't that common; these things basically kill you or don't, and most injuries are accidents [2]; and (d) NRA is a deservedly powerful voice in the national conversation about guns and gun control.
All of that is wrong.
I fully acknowledge that the fourth point has some aspects of opinion to it; the first three do not. These first three are demonstrably incorrect.
Just to get the punchline out of the way, in America: (a) Guns actually kill 86 people per day, and only about a third of those are murders; (b) A very small percentage of gun accident victims are kids; (c) Gun injuries are more than twice as frequent as deaths; and (d) NRA doesn't have enough members to warrant the influence they wield.
. . .
In other words, those 2.8 million car accidents were basically just that: accidents. Those 33,000 corpses on the highway were largely the result of bad decision-making and bad weather, bad maintenance and bad luck. Meanwhile, our 30,000 gun deaths weren't accidents – sorry, 4% were accidents. The rest were acts. They were deliberate expressions of hate and sorrow and frustration and desperation. That should mean something to us as human beings.
And, pardon me for saying so, it should mean something to the people who profit from selling the products without which these injuries could not have occurred. I note that the auto industry is constantly working to make sure there is less blood on the road. Car companies build safer cars, more numerous air bags, better seat belts; they support MADD and SADD and ever tougher laws against drunk driving; they support harsher punishments for bad actors at every level – those who behave recklessly and cause death and chaos on our highways and byways.
Now, then, when it comes to the gun industry …