Mojo reviews The Five-Year Engagement
Read the whole thing at the link.
'The Five-Year Engagement' review by Poormojo • Letterboxd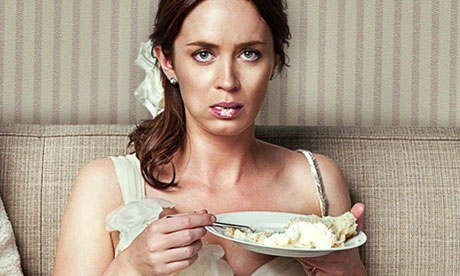 They have a meetcute. Because OF COURSE they have a meetcute. The only way you're allowed to fall in love in movies is if you have a meetcute. If you met and it wasn't cute and awkward and adorable? You're doomed. Sorry. So yeah, they met at a hipster New Year's party. She had just gotten out of a long-term thing. He was a total slut. So much of a slut that the one character beat we get beyond He Cooks is Dude Fucked A Lot Of Women.
The Complication: She gets shot down by Berkeley but accepted by the University of Michigan. Apparently Blunt never told Segal this was an option. So chalk one up for healthy communication from the Psych Doctorate.
He agrees to put his food service dreams on hold even as his boss offers to make him head chef at her new clam restaurant. His boss is also a lesbian. Is this supposed to be a joke? I don't even know. Segal basically isn't funny at all during the movie. He wrote the movie. He produced the movie. Dude isn't funny. Other reviews have cast this as proof that he is a charitable writer. I think it's proof he's a lazy writer. This film is all first draft. Barely edited. Nothing was cut.
So they move to Ann Arbor.
This film production used the frankly absurd Michigan tax credits to get made. Ann Arbor, already kind of broke, postponed infrastructure repair to finance this film. And honestly the entire point of the middle 80% of this film is: Michigan sucks. It's full of rude weirdos, emasculated men, perfectly ethnically balanced sociopath psych majors, and predatory professors.
It's the worst.