Bank that laundered money for terrorists and cartels given slap on the wrist while a poor woman gets sentenced to life because her boyfriend had coke on him
This HSBC deal is fucking shameful. Obama and his DoJ should be hounded about this for years. If anyone else besides a bank was found aiding terrorists they'd be tossed into the deepest darkest hole we have. But since a bank is doing it, well, I'm sure it was all a simple misunderstanding. Right? Officially the DoJ said they didn't want to hurt the bank's business in the USA by actually holding them accountable.
Contrast with this poor woman's story. And try not to have a rage embolism, okay?
HSBC, too big to jail, is the new poster child for US two-tiered justice system | Glenn Greenwald | Comment is free | guardian.co.uk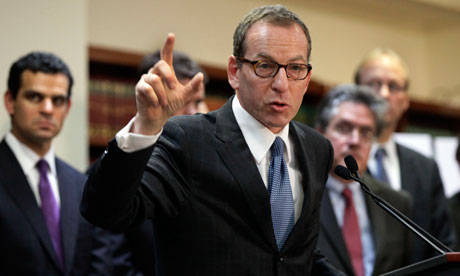 Over the last year, federal investigators found that one of the world's largest banks, HSBC, spent years committing serious crimes, involving money laundering for terrorists; "facilitat[ing] money laundering by Mexican drug cartels"; and "mov[ing] tainted money for Saudi banks tied to terrorist groups". Those investigations uncovered substantial evidence "that senior bank officials were complicit in the illegal activity." As but one example, "an HSBC executive at one point argued that the bank should continue working with the Saudi Al Rajhi bank, which has supported Al Qaeda."
Needless to say, these are the kinds of crimes for which ordinary and powerless people are prosecuted and imprisoned with the greatest aggression possible. If you're Muslim and your conduct gets anywhere near helping a terrorist group, even by accident, you're going to prison for a long, long time. In fact, powerless, obscure, low-level employees are routinely sentenced to long prison terms for engaging in relatively petty money laundering schemes, unrelated to terrorism, and on a scale that is a tiny fraction of what HSBC and its senior officials are alleged to have done.
But not HSBC. On Tuesday, not only did the US Justice Department announce that HSBC would not be criminally prosecuted, but outright claimed that the reason is that they are too important, too instrumental to subject them to such disruptions. In other words, shielding them from the system of criminal sanction to which the rest of us are subject is not for their good, but for our common good. We should not be angry, but grateful, for the extraordinary gift bestowed on the global banking giant
. . .