Court finally hears details of Bradley Manning's ongoing torture at the hands of his American captors
Manning is accused of leaking war crime documentation to Wikileaks. He has been held for years without trial, despite the law stating that his court martial hearing had to occur within 120 days.
Years.
And every five minutes for all those years someone screams at him to keep him awake.
This is what we do to a patriot whistleblower.
Court hears of Bradley Manning's treatment in custody | World news | The Guardian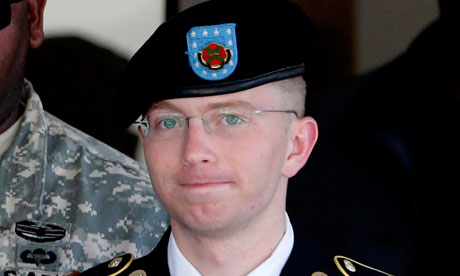 Military commanders at the marine base in Quantico in Virginia kept Bradley Manning, the WikiLeaks suspect, on extreme suicide-prevention measures because he engaged in "erratic dancing" and played peek-a-boo, the soldier's court martial has been told. The measures were likened by the UN to torture.
Daniel Choike, who was commander of the Quantico marine base between 29 July 2010 and 20 April 2011, when Manning was held there, said he had agreed to keep the soldier on a restrictive "prevention of injury" (PoI) order because of his "erratic behaviour, poor judgment in the past and poor family relationships".
The PoI order involved Manning being held in his cell for 23 hours a day in solitary confinement, having all his possessions withheld, being checked every five minutes, held overnight with the light on, and at times stripped of all his clothes.
Asked by David Coombs, Manning's civilian defence lawyer, to state specifically what "erratic behaviour" the soldier had displayed, Choike replied: "His acting out, playing peek-a-boo, licking the bars of his cell, dancing, erratic dancing – those are the ones I recall."
Coombs asked Choike whether he could imagine that somebody held captive in a 6ft by 8ft cell might dance out of boredom, to keep his mind occupied. "I suppose so," the retired colonel said.
Coombs asked whether Choike had been aware that the incidents of Manning licking the bars on his cell had happened when he was sleepwalking, probably as a result of the medication he had been given. Choike replied that he was not. It also emerged in court that one member of staff at the brig where Manning was held wrote a playful ditty about the removal of the soldier's underwear at night as part of his extreme regime. The officer transposed underpants into Dr Seuss's nonsense poem, Green Eggs and Ham:
"I can wear them in a box,
I can wear them with a fox,
I can wear them in the day,
I can wear them so I say,
But I can't wear them at night,
My comments gave the staff a fright."
Coombs read the revised poem to Choike and asked him: "Do you think the subject of the removal of his underwear was a joking matter?"