Poor Mojo's Almanac(k) Classic issue #264 (published February 2, 2006)
This post will remain here for one day. Scroll down for new news.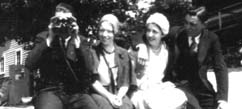 Poor Mojo's Almanac(k) Classic issue #264 (published February 2, 2006)
The Penalty Box of the literary world.
Giant Squid: Visions of the Giant Squid: Give Unto Me That Dirty Love by the Giant Squid

Although I have neither long nor often been acquainted with these internets as a graphical medium (the most conducive way for me to interact with he internets, when opportunity arrives, is via tele-text session, oft using the tiny screen and keyingboard here, aboard my cramped velocitating suit), I have long known by words-of-the-mouth that the internet is itself a veritable picto-pornucopia. I am certain I am not alone in this simple fact-internetual leading to some small degree of personal horror. For me, this graphicallity had largely here-to-fore been a matter of anthropological curiosity although, as it has come to pass, the matter has become somewhat more personal than I enjoy.

Fiction: Letter From Joshua To Alice by Julio Peralta-Paulino

Now Julia Bulette, to be clear, was a whore. However, it seems that there were also some redeeming qualities which endeared her to more than a few of the men here in Virginia City and — from the looks of this crowd — other parts of Nevada. A man without much sense might either think that there weren't many whores in these parts or that there haven't been many hangings. Common sense and a certain lack of boldness made me reluctant to ask.

Poetry: Stop Working for The Boss II found by Fritz Swanson
Toren came to me at age 32 months. He had 2 words: Ma Ma and Bye Bye. He could not focus, but ran around the room. His mother was convinced I was going to have him cured by his third birthday. I told her I was no miracle worker, but we'd do what we could during the next 4 months.

Rant: In Praise of Bruce Springsteen by Sarah Erdreich

I've never seen Jerry Maguire in its entirety, but thanks to TBS's relentless airings of this film, I've seen enough to know the plot, and I've probably witnessed Tom Cruise smarming "you complete me" a dozen times. Despite the smarm, there's something about this movie — when it's on, I watch at least until the commercial break, even though I think it's one of Cameron Crowe's weakest films and, in general, a pretty crap movie.