Why is the FDIC so good?
Why Don't Banks Fail Anymore? By Daniel Gross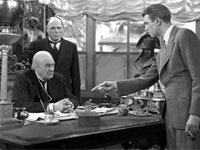 The Federal Deposit Insurance Corp. is the Joe DiMaggio of federal regulators: It's got a tremendous streak going. Yesterday marked the 639th day without a bank failure, the longest run in the institution's history. (The prior record, 609 days, ended in 1946, the year the best film about a busted bank, It's a Wonderful Life, premiered.) And 2005 was the first calendar year since the FDIC's inception, in 1934, in which no banks failed. Meanwhile, in February, President Bush signed legislation that, for the first time since 1980, would raise the cap on insured deposits. Are these signs that the vast banking industry has reached a new plateau of permanent prosperity and competency? Or is it the calm before the storm?
The FDIC was one of those awful, socialistic, anti-capitalistic, doomed-for-failure New Deal projects that has, in fact, contributed enormously to the nation's well-being. "No depositor has lost a single cent of FDIC-insured funds as a result of a failure," as the FDIC proudly notes. And it certainly hasn't inhibited the banking industry from growing.